CHANMAG 6 pocket Volumetric Dough Divider Baking Show Debut
15/03/17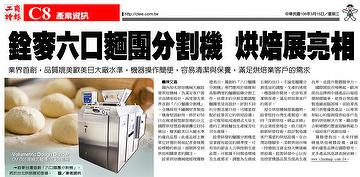 Baking industry's first「Volumetric Dough Divider」
Baking industry's first "Six pocket Volumetric Dough Divider", the whole machine made of stainless steel, will be April 6 at the Nankang Hall debut at the Taipei International Bakery and Equipment Exhibition booth K916 show, the quality is worthy of your satisfaction be well matched Europe/United States and Japan manufacturers standards of good quality.
This product was evaluation through by the organizers in the exhibition before the press conference recommended to the media of new products, is expected to be baked related industry attention.
CHANMAG General Manager Mr. Lo sir said: Unique "Six-pocket Volumetric Dough Divider" is suitable for fine & dense dough structures. With different pistons chamber volumetric dough divider to combine with our other baking equipment, can achieve continuous and large number of bread and toast production needs. The machine is precise, accurate, saving manpower and production quality control.
CM-DE6 Volumetric Dough Divider is designed precise design manufacturing, strong body with stainless steel material. Machine uses suction to let dough enter the volume space and cut by cutter, and then divide individual dough equally and precisely by the available number of port within the machine. Meet wide range of dough weight.
More info link website: Bakery industry first "Six-pocket Volumetric Dough Divider