CHANMAG invitation you join us at iba 2018
29/08/18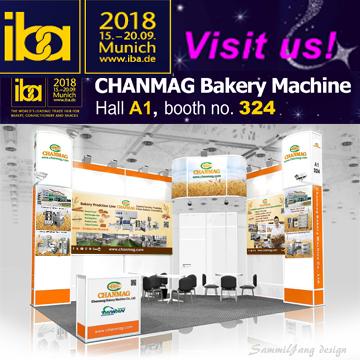 CHANMAG invitation you join us at iba 2018, Booth A1.324
CHANMAG Bakery Machine Co., cordially invites you to join us at iba 2018 in Munich Germany during Sep. 15 - 20, Hall A1, Booth no. 324
Our will showcase the Bakery Production Line series machine for the CM-MT160S Twin Twist Mixer with Removable Bowl, CM-200AD Spiral Mixer(Digital Control Panel), CM-DE6 Auto Dough Divider, CM-A30A Auto Dough Divider Rounder products that will be available.
We are looking forward to seeing you at the iba 2018.
For more information, please visit www.chanmag.com.tw or contact sales team.
iba | THE WORLD´S LEADING TRADE FAIR FOR BAKERY, CONFECTIONERY AND SNACKS | 15. – 20. September 2018
iba is a universe of possibilities: as the world's leading trade fair since 1949, it is the central platform for the baking, confectionery and snack industry. At iba over 1,300 exhibitors from almost 60 countries showcase an endless variety of trends and new products along the entire value chain – like no other trade fair for the industry.
Posted in News By CM MarCom Yang