CHANMAG invitation you join us at InterFood 2018
09/11/18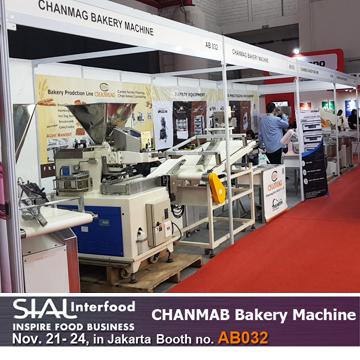 CHANMAG Bakery Machine Co., cordially invites you to join us at InterFood 2018 in Jakarta during Nov. 21 - 24, Hall A1, Booth no. AB032
Our will showcase the Bakery Production Line series machine for the CM-DV-4S Dough Divider, CM-RH1PD (90, 110, 120, 135) Auto Dough Divider, CM-1000R3 Dough Rounder, products that will be available.
We are looking forward to seeing you at the InterFood 2018.
For more information, please visit http://www.chanmag.com or contact sales team.
銓麥企業股份公司誠摯地邀請您參觀我們InterFood 2018印尼國際食品工業展攤位,展出時間:11月21 - 24日,攤位號碼:AB032
我們將展出生產線系列烘焙機械產品: CM-DV-4S連續式麵團分割機,CM-RH1PD (90, 110, 120, 135) 單口麵團分割機, CM-1000R3麵團滾圓機等,歡迎大家前來共相盛舉!
我們期待著看到你在2018印尼國際食品工業展攤位。
更多產品訊息,請聯繫業務團隊或查詢銓麥網站:http://chanmag.com.tw/