CHANMAG newest stainless steel series product recommend to you
24/10/17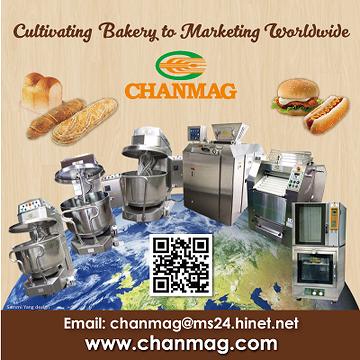 CHANMAG Bakery Machine releases the stainless steel series product for Twin Twist Mixer, Spiral Mixer, 6-pockets Volumetric Dough Divider, Dough Rolling Machine and Convection Oven. The quality is worthy of your satisfaction be well matched Europe/United States and Japan manufacturers standards.
Twin Twist Mixer
CM-MT160S Twin twist mixer is design with removable bowl is suitable for dough processing; saving mixing time than same capacity spiral mixer. The mixer upper head is designed to lift up by hydraulic power to allow bowl trundle removable for exchanging the mixing procedure.
Spiral Mixer
CM-120AS/CM-200AS Spiral Mixer is designed with hydraulic system with removable design can be integrated in the continuous industrial application; movable spiral mixer ensures to knead at short mixing duration, consuming less energy, rotational speed for making hygienic and finest quality dough.
6 Pockets Volumetric Dough Divider
CM-DE6 Continuous type 6 pockets Volumetric Dough Divider is suitable for fine & dense dough structures. With different pistons chamber volumetric dough divider to combine with our other baking equipment, can achieve continuous and large number of bread and toast production needs. The machine is precise, accurate, saving manpower and production quality control.
Dough Rolling Machine
CM-535S Dough Rolling Machine is suitable for use in bakery, baking laboratory or production site to use, hard texture suitable for low water content of the dough pressure of work. The operator could set the number of repeated rolling demand, then the machine will automatically output the whole dough when process is finished.
Convection Oven
CM-406D Convection Oven with Digital panel is mainly used for baking stove croissant, Danish, puff pastry class products for stores and other laboratory use baking small space. This machine suits electricity or gas, according to necessity, and available with the optional installation of vapor, and can be combined with other small Proofer fermentation tank, electric oven and a single disc, save on space, to meet the diverse production needs.
For more information, please contact our sales team. http://chanmag.com.tw/
Posted in News By CHANMAG MarCom Yang